Needless to say, this article is NSFW.
///
This is a difficult question to ask, so I'm just going to go ahead and get right to the meat of it. Have you ever been playing Pong (1972) and wished that, instead of the rigid paddles, you could get something a little more floppy in your hands?
Schlong could have you covered. Created by Dillon Sommerville, Schlong replaces both player's paddles in a traditional game of Pong with erect but surprisingly flexible penises, flopping around the place with the aim of deflecting a ball back at the opponent's goal. That's all there is to it. You know what Pong looks like: bright white lines on a blackboard, a white dot moving across the screen. Now imagine that, but with dicks. There's a GIF here, take a look: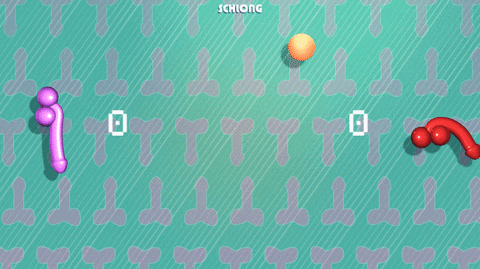 It wasn't always supposed to be this way. Sommerville began by working on a local-multiplayer sports game called Hock at the start of this year. Hock is a fast-paced twin-stick game with a '70s aesthetic. "In the midst of that and working full-time as a 3D environment artist, I was getting pretty down about not being able to put out content regularly," said Sommerville. "I went out drinking with coworkers and we got talking about making 'Pong with dong' and, since I'd already put all this work into the physics of Hock, Schlong was easy."
Schlong seems to inhabit a totally different world to Hock's futuristic approach, but there's a certain appeal to using the swing of the, well, dong to catch the ball. There's something reminiscent of Push Me, Pull You to the game's aesthetic. Oh, and it should go without mentioning that it bears many resemblances to Genital Jousting.
"make it floppy"
But, if Hock is a serious sports title, what of Schlong? "I think in game design, floppy physics definitely succeed best when they're attached to a really minimal gameplay scenario," said Sommerville. "The more non-aesthetic features, the more weirdly competitive it becomes. Although, I think I've learned that when you're making a sports game and you're not sure about the physics," Sommerville pauses, "make it floppy."
Sommerville, who goes by the handle Handwiches on the TigSource forums, has cataloged a lot of his thoughts and more than a few NSFW GIFs in a forum thread that you can check out here to examine more of his process. Or,  you know, if you just wanna see more dicks flopping around. Whatever suits you.
You can visit Schlong's itch.io page to get it for the low low price of however much you're willing to pay.