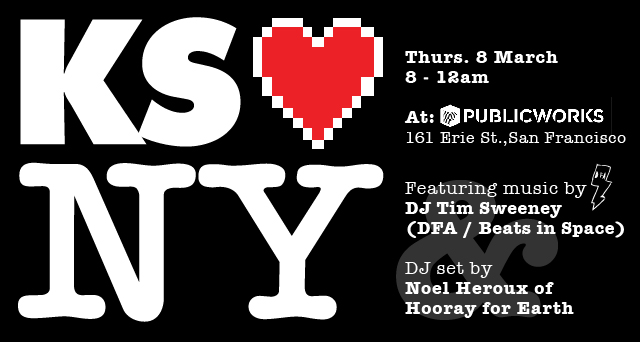 We're throwing a party in San Francisco on March 8, with DJ sets from Tim Sweeney of DFA Records and the Beats in Space podcast, and Noel Heroux of Hooray for Earth. We'll also be crosspollinating with some of New York City's best new indie and experimental games.
Hemisphere Games – Osmos – MULTIPLAYER DEBUT!!
Zach Gage – Bit Pilot – The beautiful and addictive retro bullet-dodging iOS classic!
Ramiro Corbetta – Hokra – A thrilling minimalist 4-player sports game originally created for the NYU No Quarter exhibition.
Adam Parrish – Lexcavator – PUBLIC DEBUT!! Boggle meets platformer in this Tetris-style puzzle game.
Michael Consoli – Against the Wall – Explore a beautifully rendered and mysterious world set on the side of an infinite vertical surface, while trying to return to your village located miles above the starting point.
Tickets and prizes are on Kickstarter. Get yours here!